JOHN LAURANCE
The Immigrant Founding Father America Never Knew
"Keith Jones and the American Philosophical Society have added an important chapter to the history of the early republic with this biography."
– Kenneth R. Bowling
Co-editor, Documentary History of the First Federal Congress,
Adjunct Professor of History Emeritus,The George Washington University
"In my opinion, this is the best treatment of military justice in the Continental Army yet written."
– T. Cole Jones, PhD
Department of History, Purdue University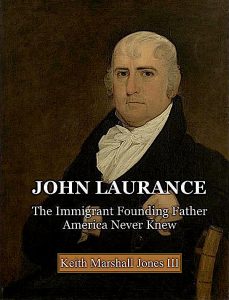 What if . . .
America's legal bedrock owes as much to a legion
of unsung legislators and jurists
as to Washington, Adams, Jefferson, Madison and company?
This long overdue seminal biography of New York lawyer John Laurance lays bare his against-all-odds passage from immigrant cipher into Federalist America's governing inner circle. Essential to the telling are five wartime years as General George Washington's "courtroom Baron von Steuben" and battlefield father of the U.S. Army Judge Advocate Corps. Never defeated for post-war electoral office, Colonel Laurance spoke as New York City's forceful voice in Confederation Congress, the state legislature, and both houses of the fledgling United States Congress. Who knew?
A man "of handsome dignified presence," he was, wrote historian Alexander F. Young (The Democratic Republicans in New York, 1967), "in many ways the complete Federalist." There is no better view of the rise and fall of New York Federalism than from Laurance's front row seat. Alexander Hamilton's 30-year intimate friend, he clashes with James Madison to champion the treasury secretary's audacious financial agenda and leave his own loose-constructionist mark on the crucial First United States Congress. As President Washington's federal district judge and President Adams's Senate ally, Laurance navigates the Federalist era's oft-unsavory political underbelly to wage "quasi-war" with Revolutionary France. Along the way he introduces readers to a parade of unsung lawmakers and jurists . . . plus a rogue's gallery of period financial speculators.
Wed to the bluest of Philadelphia high society blood, and master of a self-made speculative real estate fortune, Senate President Pro Tempore Laurance by December of 1798 is a man to be reckoned with. But all comes crashing down with the pivotal election of 1800. Amid savage politics of a divided Federalist Party rocked by societal change, Laurance grapples with the dilemma confronting today's Republican Party: what to do when events overrun ideology? Would he resist from within . . . cross the aisle . . . or jump political ship?
Published by Ben Franklin's American Philosophical Society (est. 1743), JOHN LAURANCE, The Immigrant Founding Father America Never Knew, is available on Amazon. com in July 2019, as a 391 page premium-bound soft cover or an e-book. For more about the American Philosophical Society—the nation's oldest continuously running press— and how to order its publications, visit the link below:

https://www.amphilsoc.org/publications
Purchase your copy of
JOHN LAURANCE The Immigrant Founding Father America Never Knew,
personally signed by the author.
Just click below:
* * * * * * * * * *