Author/historian Keith Marshall Jones III
works with historical societies and foundations
to produce lively, scrupulously researched, serious non-fiction narratives.
Winner of the 2019/2020 John Frederick Lewis Prize for Publication of the Year by the American Philosophical Society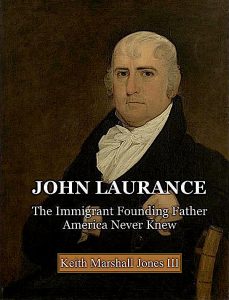 JOHN LAURANCE
The Immigrant Founding Father
America Never Knew
NEW !

The first complete biography of patriot New York lawyer, soldier, lawmaker, and jurist John Laurance (1750 – 1810). From opening gun of the War for Independence to the Jeffersonian "Revolution of 1800," Jones chronicles the fascinating breeches-to-riches story of America's only foreign-born citizen

ever

to rise within two heartbeats of the presidency. Published by Philadelphia's 276-year-old American Philosophical Society—America's longest continuously running press—the 391-page book was awarded the John Frederick Lewis Prize as the Society's 2019 Publication of the Year.
Keith Marshall Jones III's books include Congress as My Government, the first complete account of Supreme Court chief justice John Marshall's youthful service in George Washington's Continental Army; Farmers Against the Crown, a comprehensive account of the April, 1777 Revolutionary War battle in Ridgefield, Connecticut; and The Farms of Farmingville, An architectural profile of 23 Connecticut farmhouses and two-century saga of the people who gave them life.
Jones lives in Manhattan . . . and Tucson, Arizona
* * * * * * * * * *